'Gay couples are different' so can only adopt children who have issues, adoption chief says
Comments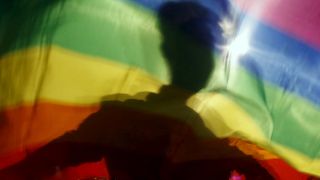 Gay couples are socially and biologically different so should only expect to be allowed to adopt children who other couples do not want, the head of a French adoption service has said.
Pascale Lemare, who runs the department in charge of assessing adoption cases in the Seine-Maritime region in Normandy told France Bleu radio that that would-be homosexual parents were not a priority.
"They themselves are a bit different, if one can say, compared with the norm - the social norm but also the biological norm - so if their project includes a child who is unusual - a child that no one wants - because there are some people who don't want to adopt a child who is too damaged, too mentally disturbed, too old, handicapped, so those children that have issues that aren't looked for, and its not surprising, by couples... so if gay couples are open in their expectations, they can adopt a child no problem."
Lemare added: "They aren't a priority but they aren't by any means excluded from adoption."
"Pascale Lemare isn't only lacking respect for homosexual couples... But also at special needs children who she obviously considers not worthy of the same family as "normal" children!! Double discrimination, shame on her," wrote one user on Twitter.
"The words of Pascale Lemare disgust me, honestly, but she's just expressing a fact. Yes homosexual couples are barred from adoption in all regions of France in favour of heterosexual couples, a selection made by the family councils [which decide on which children are allocated to which parents, once the authorities have given the green light]," wrote another.
The head of the Seine-Maritime region condemned Lemare's words, noting that homosexuals were in not considered as different and that each child has the same right of adoption.