MENA women in sports are levelling the playing field
Comments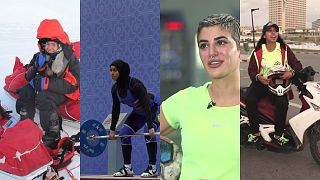 Women in the Middle East and North Africa are hurdling over stereotypes in sports, and in their path, clearing the way so that young women can pick up the baton from where they left off.
Inspire Middle East met up with four women from different countries in the region to see up close and personal how they are redefining what it means to be an Arab sportswoman.
THE EMIRATI ADVENTURER
Elham Al Qasim is the first UAE national to reach the North Pole. We met with her in a similar sub-zero environment but a little closer to home at the UAE's Ski Dubai, home of the only indoor ski slopes in the Middle East.
Al Qassim, has packed a lot into just 36 years, and it all started when she studied in the United States. She began competing in athletics nationally, earning gold medals in martial arts and free-sparring competitions.
She went on to secure degrees from the UAE and U.K. before entering the world of investment banking. In 2010 she became the first Emirati to cross-country ski to the North Pole unassisted.
"It really was about understanding my own limits - physical and nonphysical," says Elham.
Her journey began on a Russian base in the Arctic Ocean, located at 89 degrees latitude.
And the expedition was a gruelling one, which lasted for three weeks.
"Everything that I was able to do at a regular temperature was extremely hard to do at minus thirty plus wind chill," she says, which involved Elham skiing for around 12 hours a day while pulling behind her a sledge of supplies weighing more than 40 kilograms.
"All you're left with is your own willpower."
Coming from the hot humid desert climate of the UAE, she was out of her element. Getting frostbite in temperatures of minus 30 degrees celsius, Elham says mental resilience is what nudged her through.
"It was the fact that it was totally opposite to my home environment that inspired me," she says.
Once reaching her freezing destination she proudly placed her Emirati flag in the snow, sprinkling grains of Middle Eastern sand where she knelt.
Elham is still mulling her next adventure and in the meantime she has returned to the corporate world and is busy raising her three young children. Whatever her next endeavour it will probably reflect the meaning of her Arabic name in English: inspire..
THE EMIRATI WEIGHTLIFTER
Amna al Haddad is driving the position of women forward in competitive sports. She started out her career at the age of 22, first as a professional crossfitter in 2011 and then as a professional weightlifter in 2013.
She's the first Emirati and gulf region national to do competitive weightlifting wearing a hijab and since then has broken more barriers internationally.
"There is a lot of focus in the media about what women wear in doing sports," said Amna.
But at the same time, she believes that the spotlight has empowered women who dress conservatively in sports.
"There's been a lot done recently about creating that choice for women to have a hijab," she says.
"I think it's a great movement."
But given that there wasn't anyone around at the time who could train her for her goal of competing in the Olympics, Amna decided to coach herself. She had to seek training in the U.S. as a result.
Now retired, she's put down the weights to help uplift other Arab women who want to follow in her footsteps.
THE SAUDI FOOTBALLER
Being the odd woman out is something footballer Saja Kamal is used to in Saudi Arabia.
She started playing football at the age of four, in a country that has strict rules about women playing sports publically.
Since then she continued going against the grain breaking two world records with a team of women, playing a 90 minute FIFA regulated match at the highest point on earth at Mount Kilimanjaro and then again at the lowest point at Jordan's Dead Sea.
Today in Saudi Arabia, women are still not allowed to play sports in public fields, wear shorts outside, and must have a male guardian's permission to travel. Despite these obstacles Saja is focused on moving change forward.
"I think the the main goal for me at least is a Saudi national team being formed like a football team getting that kind of recognition legally and officially on paper we don't exist as players, says Saja.
With a boyish haircut, tattoos and a nose piercing. Saja doesn't claim to look like the world's image of Saudi women. But she says that's the point as they come in many forms, sharing one thing in common.
"We fight harder and maybe we rebel and we're louder and we want to be heard," she remarks.
"I think because we weren't given as many opportunities as men growing up, we always want to prove ourselves," she adds.
Saja shares her story publically on social media and presents a different face to the world as a Saudi woman, but she says she says being so open comes at a price. .
"I've been called things like atheist, lesbian, liberal, anti-government," she says, but Saja says she is willing to take the heat if it means having a positive impact.
THE LIBYAN SPEEDRACER
Also driving change for women in Libya is teenage speed enthusiast Malak El Na'as. From fast cars to motorbikes and even boats, anything mechanical and high speed is her sport.
At 16 years old Malak is one of the first women in Libya to race competitively, usually as the only girl.
"How can a girl play with motor vehicles and with the boys," said Malak, is what people in Libya usually ask her when they see her riding on her motorbike.
Her interest in speed racing began at the age of eight. Malak's mother encouraged her to follow her dreams and bought her bikes and motorcars to fuel her passion.
Since Malak started competing, more Libyan women have developed an interest in the sport. But the idea of of women racing is still considered out of the ordinary in the conservative society.
"This is a new idea in the streets of Libya," says Mahmoud Zaghwan, an engineer and amateur motorcycle rider in Tripoli.
"It's dangerous a little bit for women on the gentler sex, these sports are difficult for them."
But not all Libyans think this way, Malak's coach supports her endeavors despite the traditional views of the country.
"It's not shameful, it's not forbidden. It can be practiced in a proper way," says Ahmad Bouslifi, president of the Tripoli Stars Club and Malak's mentor.
For this daredevil cars, boats, and motorbikes are still not enough. For Malak the sky's the limit as she wants to become an airline pilot someday.
SOCIAL EYES: WOMEN CONTENDERS ACROSS MENA
Yara, dubbed Egypt's only female rally driver, posted this clip with the hashtag #ChaseYourDream
Noora – who's Iran's first female motocross champion - took this snap of her teaching others ladies to ride.
Syrian-American rapper Mona uploaded a shot of her fixing her boots – and one commenter to her Instagram page said "they'll come in handy for breaking the glass ceiling."