As it happened: Russia crush Saudi Arabia 5-0 in World Cup opener
Comments
By Ben Gibson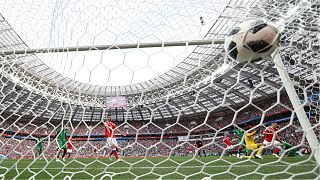 Copyright

REUTERS/Kai Pfaffenbach
Russia kicked off the World Cup today with a crushing 5-0 victory over Saudi Arabia.
The Russians gave the winning performance in front of the 80,000-capacity Luzhniki crowd, which included President Vladimir Putin and the Saudi crown prince.
Here are five things you need to know about the match:
1. Russia end losing streak
With Russia beating Saudi Arabia 5-0, they ended their seven-game losing streak.
The hosts made it look easy as they applied pressure to Saudi Arabia throughout the game.
While Saudi Arabia had the majority of the possession they were unable to break the Russian defence, and their own defence was not up to scratch, catching them out on a few occasions.
2. Video Assistant Referee system (VAR)
The match marked the first time that VAR has been available in a World Cup match.
The video technology system was not called upon during the match, but provided a safety net in moments such as a tight offside.
3. No host team has lost their opening game
Russia's victory maintained the pattern of no host losing an opening game in the tournament.
The early victory was good for the Russian team and for the atmosphere among their supporters.
4. Saudi Arabia keep playing
Even though they lost, Saudi Arabia never gave up.
This is a resilient trait for the team, as even when the fourth goal hit the net they continued to maintain form. If there had been fewer mistakes, the scale of defeat may have been lower.
5. It was worth the wait
While this was not the opening game everyone was hoping for, it did give all football fans something to watch and enjoy.
The game was the biggest host win since 1984, meaning this year's World Cup has incredible potential.
6. Robbie Williams' middle finger made an appearance
British popstar Robbie Williams was half-way through performing at the opening ceremony when he decided to raise his middle finger to the TV camera.
It was not obvious what Williams meant by the gesture, but it provoked outrage, confusion and jokes on social media.