US is a 'piggybank everyone is robbing', says Trump at G7
Comments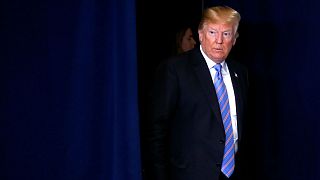 US President Donald Trump said on Saturday he told Group of Seven leaders that the United States required fair access to markets and an end to unfair trade practices.
"It's going to stop, or we'll stop trading with them," the president said at a news conference on the second day of the G7 summit in Quebec.
"If they retaliate, they're making a mistake," he added.
Trump said he didn't blame the G7 leaders for "unfair" trade deals but rather their predecessors.
Despite earlier reports of a rant over trade from Trump, he said the meeting "was not contentious" and called the relationships between the leaders "outstanding".
Watch the full speech here:
North Korea
After the summit in Quebec, Trump headed to Singapore, four hours earlier than originally planned, to meet with North Korean leader Kim Jong-un.
He described the trip as a "mission of peace".
"This is unknown territory in the truest sense but I feel really confident," Trump told reporters. "It's never been done, it's never been tested. So we are going in with a really positive spirit."
Although, he said if he senses Kim is not serious, he won't prolong talks.
Russia
On the subject of Russia, Trump said he thought it would be "an asset" to have the country in what would be the G8.
When a reporter asked the president about Crimea he responded: "You have to ask President Obama, he was the one who let Crimea get away. That was during his administration."
Iran
Trump said the G7 leaders were united in their approach to the "threat of Iran" and committed to controlling the country's "nuclear ambitions".
Trump left the summit on Saturday before it discussed climate change and the health of oceans.