World Cup 2018: how to follow England
Comments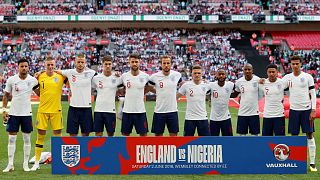 No team at this summer's football World Cup? Want to support another team as well as your own country?
Well, fear not, here's our guide to supporting England.
Key facts
Full name: England
Nickname: The Three Lions
Emblem: It has three lions and is borrowed from 12th-century English King Richard I. It's also interspersed with 10 roses. There are versions with a gold star above the three lions, which represent England's solitary World Cup win in 1966.
Supporters nickname: None.
Headquarters in Russia: The team will stay at Repino, near St Petersburg, and train a few kilometres away.
What to sing
God Save The Queen: England football supporters often launch into a rendition of the national anthem, even during the match.
**
We're On Our Way [To Moscow]:** This is the song of the moment for England fans: "We're on our way/We're on our way/We're going to Moscow/We're on our way/How we get there we don't know/How we get there we don't care/All I know is we're on our way ..."
'Vardy's On Fire': When Leicester striker Jamie Vardy is having a good game, supporters have a popular chant for him. They sing: "Vardy's on fire, your defence is terrified," to the tune of Freed From Desire by Brooklyn-based Italian singer and songwriter Gala.
England 'Til I Die: To show their eternal support for their team, fans often sing: "I'm England 'Til I Die" on a loop.
What to shout during matches
Offside!

Foul!

Dive!

Penalty!

You don't know what you're doing! (often aimed at referees)

Can we play you every week? (aimed at bad teams)
Who is the best-known superfan?
The trumpet-playing John Hemmingham, who leads the music band that supports England at matches.
Worst moment(s) for England at a world cup?
The problem is not finding a worst moment, it's choosing from the long list of World Cup woe.
Select from: losing to the US (1950); Maradona's handball controversially known as "the hand of God" (1986); going out on penalties, again (1990, 1998, 2006).
Best moment for England at a world cup?
Undoubtedly winning in 1966. But it's been a millstone around the neck of subsequent England teams ever since.
Which players should I look out for?
Raheem Sterling: The 23-year-old attacking midfielder has been on a high after having his best-ever season with Premier League-winning Manchester City. But he was brought back down to earth by tabloid stories criticising him for a tattoo of a gun and turning up later-than-planning to a training camp. Will all the criticism affect his performances?
Harry Kane: England's newly-appointed captain has proved to be a clinical goalscorer for Tottenham but will he be able to light up the World Cup in Russia like he does the Premier League, week-in-week-out?
Trent Alexander-Arnold: The young right-back is not guaranteed to start for England but he is an exciting prospect who has enjoyed a breakthrough season in Liverpool's run to the final of the Champions League. He's super-quick and has a talent for dead-ball situations like free-kicks and corners.
Who should I follow on social media?
Players:
Commentators and journalists: