World's powerful convene for secretive Bilderberg meeting: What is it?
Comments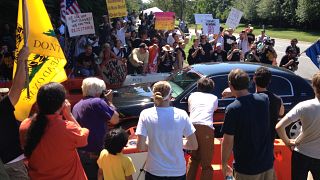 -
Some of the world's most powerful political and corporate figures are converging in Turin, Italy, on Thursday for the controversial and highly secretive Bilderberg meeting.
Now in its 66th year, the Bilderberg event describes itself as an "annual conference designed to foster dialogue between Europe and North America" where participants discuss major issues facing the world. But its strict confidentiality rule has drawn criticism as well as the ire of conspiracy theorists.
Who's attending
This year 131 participants from 23 countries have confirmed their attendance. About two-thirds of the participants come from Europe and the rest from North America. They include political leaders and experts from industry, finance, academia and the media.
Among them will be the prime ministers of the Netherlands, Belgium, Serbia and Estonia.
The secretary general of NATO and the director general of France's intelligence services will also be present, as will Mark Carney, the governor of the Bank of England, and former US diplomat Henry Kissinger.
On the corporate side, some of the biggest names include executives from Airbus, BP, Total, Google, Vodafone and Ryanair.
What will be discussed
There are twelve topics on the agenda for the four-day event which cover geopolitics, technology disruptions, politics as well as a hazily-defined "current events."
They are:
Populism in Europe

The inequality challenge

The future of work

Artificial intelligence

The US before midterms

Free trade

US world leadership

Russia

Quantum computing

Saudi Arabia and Iran

The "post-truth" world

Current events
Criticism and conspiracies
While the agenda and the name of participants are known, little else is.
The meetings are held under the Chatham House Rule, which states that participants are free to use the information received, but neither the identity nor the affiliation of the speakers nor any participant may be revealed. Additionally, no minutes are taken and no report is written, which shrouds the event into secrecy.
Every year, protesters gather at the meeting's location to denounce that opacity. 
The alt-media, conspiracy theorists and Illuminati watchers also regularly rail against the meeting, claiming it's proof that a global elite is trying to impose what they call a New World Order. Their preferred theory is that Bilderberg is where future Western leaders are screened and selected.