World Cup Russia 2018: How to follow Belgium
Comments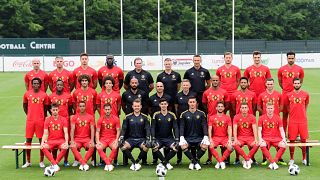 Is your team not going to the 2018 World Cup? Want to become a fan of another team? Or do you want to get to know your enemies? Euronews can help with our basic toolkit for the Belgian national team.
Full name: Equipe de Belgique de football / Belgisch voetbalelftal
Nickname: Diables Rouges/ Rode Duivels (Belgian Red Devils)
Emblem: coat of arms of the Belgian Football Association (Union Royale Belge des Sociétés de Football Association)
Supporters nickname: there is no real nickname for general fans, the biggest fan organisation is Fan Club 1895
HQ during the 2018 World Cup: Nakhabino, about 40 kilometers west of Moscow.
Chanting:
La Brabançonne, national anthem
Waar is da feestje? Hier is da feestje
Come on Belgium
Also, Belgium had arranged for their official song during the Russian World Cup to be performed by the rapper Damso. But because his previous lyrics have been deemed sexist and seem to threaten violence against women there was a public outcry and the Belgian federation decided to end their collaboration.
Key Supporters' language:
Goal: goal
Shoot: shoot (French: a tir)
Yellow/Red Card: une carte jaune/rouge (French: un carton jaune/rouge)
The Referee is blind: le ref est aveugle
Corner: un coup de coin
Draw: un partage (French: match nul)
Goalkeeper: un keeper; (French: un gardien ou un goal)
Shirt: vareuse (French: maillot)
Can we play you every week?: jouer comme des klettes
Superfan:
Kiki L'innocent
Worst moment in World Cup history :
In the 2002 World Cup, Belgium faced Brazil for a place in the Quarter Final. Marc Wilmots had a goal ruled out before Brazil went on to win 2-0.
And, for this year's World cup, Radja Nainggolan's omission from the squad, by coach Roberto Martinez, has angered many fans.
Best moment in World Cup history:
Belgium reached the Semi-Final in 1986 before losing to eventual winners Argentina, 2-0, and then losing the third-place playoff to France, but this fourth place finish is still their best performance at a World Cup.
Players to follow: Eden Hazard, Romelu Lukaku, Kevin De-Bruyne
On social media:
Most common hashtags:
Active Belgium players on Twitter:
During games:
Media and journalists: