Preparations for landmark Trump-Kim summit in Singapore
Comments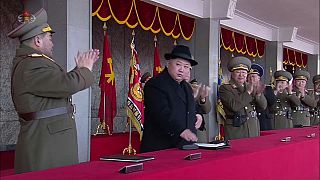 There's just one week to go before the landmark Trump-Kim summit and Singapore has declared its diplomatic district a "special event area" sparking rumours over the venue.
Meanwhile, the White House officially announced the meeting will happen at 9am on June 12th.
Sarah Huckabee Sanders, White House Press Secretary said; "Our focus is on the President's meeting with Kim Jong-un and the President will make his views known directly to him when we're in Singapore and our focus will continue to be on denuclearisation."
Preparations of all kinds are underway in Singapore.
The UN's nuclear watchdog the IAEA has said it's ready to resume its nuclear verification activities in North Korea.
Yukiya Amano, International Atomic Energy Agency (IAEA) Director General, said; "We will be ready to act promptly and play an essential role in verifying North Korea's nuclear programme if a political agreement is reached."
North Korean Leader Kim Jong-un has also been getting ready. He's replaced three of his top military officials, suggesting he's tightening his control to stamp out any internal dissent at such a critical time of international engagement.
On a lighter note, back in Singapore, its bars are getting in on the act creating "Trump and Kim" cocktails. But they're refusing to say which one is the stronger.