Details revealed of latest Greek bailout
Comments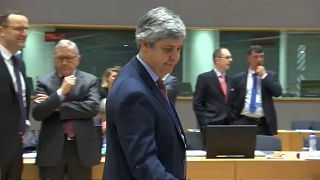 Lenders in the Euro zone say they plan to put together a debt relief deal for Greece which will be credible to international investors.
Chairman of euro zone finance ministers group, Mario Centeno, speaking on the sidelines of the G7 Finance Ministers' meeting in Canada, said it would involve a rescheduling of loans from the second Greek bailout.
Centeno said the aim was to secure last-minute backing from the International Monetary Fund for the euro zone debt relief offer for Greece so that it becomes credible with markets and attracts investors back to Greece when it exits its bailout in August.
No deal was struck during discussions with the IMF on Saturday but both sides agreed to continue talks next week.
They hope to secure an agreement by June 21 when euro zone finance ministers plan to seal the details of the debt offer.
Since 2010, when Greece lost market access, there have been three bailouts. Euro zone governments are now the main creditors with loans of €230b so far.
The IMF were involved in the first two bailouts but not the third, saying they wanted assurances about how the euro zone will make Greek debt sustainable.
The debt now stands at 179 percent of Greece's GDP.