Rape as a weapon of war: Women in South Sudan speak out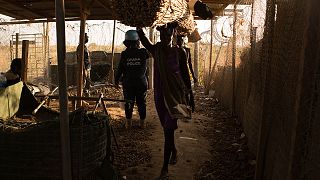 It is one of the most brutal consequences of South Sudan's civil war which has entered its fifth year. 
Amid the violence, rape is rife in the world's youngest country which gained independence from Sudan in 2011.
The conflict, which started two years later, has driven some four million people from their homes.
Seven million, almost two-thirds of South Sudan's population, could become severely food insecure in the coming months.
'Aid Zone' visited Bentiu, capital of Unity state, which has seen some of the worst fighting since the civil war began. 
Violence has flared again, bringing a fresh influx to the POC - the so-called 'Protection of Civilians Camp'. It is the biggest settlement for the internally displaced in the country, with some 120,000 residents.
Most women arriving there have faced harassment and violence, in a country where rape has become a weapon of war.
"There were many of us women next to the river. Some criminals came and picked seven of us. We were taken to the forest," one survivor told 'Aid Zone' reporter Monica Pinna.
"We all knew we had been raped. We comforted each other by saying that this happens in every war. We knew that if you don't get raped today, you will be raped tomorrow."
Some 65 percent of South Sudanese women have experienced sexual or physical violence, twice the global average. Financed by the EU, UNICEF is playing a leading role in preventing and responding to gender-based violence.
"Cases of sexual violence against women have soared since 2013 and we are now dealing with an almost epidemic situation where there are constant attacks on women," said Mustapha Ben Messaoud, UNICEF's Field Office Chief in Bentiu.
"Things are getting worse every day."
The NGO 'International Rescue Committee', coordinated by UNICEF and financed by the EU Humanitarian Aid Office, runs four 'women's centres" in the camp and two outside. There, women find protection, training and assistance.
"Of all the women who are in the camp, over 50 percent have been raped," IRC Programme Manager Rachel Nyanquoi Jackson told 'Aid Zone'.
"They have experienced sexual violence, either in the POC, outside the POC, or en route to the POC. We give them psycho-social support and we give them information about the consequences of the violence, especially sexual assault and the need to seek medical attention."
Moving into the camp doesn't necessarily mean an end to the violence. Some 20 cases of rape per week are reported by each IRC centre.
A daily chore like looking for firewood is among the riskiest activities. The NGO 'Nonviolent Peaceforce' has carried out daily checks around the camp's perimeter for the past three years.
"We are monitoring the situation by having simple conversations with women coming back from collecting firewood, elephant grass," explained Rungano Bakasa from 'Nonviolent Peaceforce.'
"We get more information from them on the security situation. We also give information from (based on) what the women are telling us, so that we see how they can be better protected."
Supported by UNICEF and the EU, the NGO refers victims to hospitals and women's centres in the camp.
However prevention is harder than response and cases like mother-of-eight Nyakuor Roam, raped last year while collecting firewood, are still common.
"Some men came. All the other women left, but for me it was too late to run away. They got me," she said.
"Every time I go out now, I am terrified. This could happen again, but I have no choice for my children, I have to do it."
Donors like the EU Humanitarian Aid office are looking at more effective ways of addressing gender- based violence during conflicts. That is why the European Union has spearheaded the 'Call to Action' on prevention and response to Gender-Based Violence in Emergencies.
"This is a global initiative with over 70 members under the leadership of the European Union where they are trying to promote a broader engagement in terms of humanitarian response, and ensuring that there is effective accountability, that the humanitarian community actually does something about it," explained Bart Witteveen, of EU Humanitarian Aid.
Sexual violence on a massive scale in South Sudan is being used to exact revenge on entire communities. The humanitarian response works on reintegrating victims into their families and society.