Saudi Arabia is to outlaw sexual harassment — and there's mixed reactions
Comments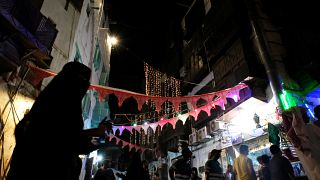 Saudi Arabia this week passed a draft law to criminalise sexual harassment, just under a month before a ban on female drivers is due to be lifted.
The Shura Council, the kingdom's advisory body, approved the anti-harassment bill Tuesday, saying it is "aiming to combat the crime of harassment, preventing it from occurring, applying punishment to the perpetrators, and protecting the victim in order to safeguard the individual's privacy, dignity and personal freedom guaranteed by Islamic law and regulations," a council statement said.
According to reports, the new law will carry a sentence of up to five years in prison and a fine of up to 300,000 riyals (68,000€).
On social media, Saudi reactions were mixed.
At the time of writing, there have been almost 90,000 mentions of the conversation's top two Twitter hashtags combined, such as اقرار_نظام_مكافحه_التحرش#, which translates to "approval_system_fighting_harassment," or_ قانون_مكافحه_التحرش#, which translates to "law_fighting_harassment."
Many Saudi Twitter users responded to the news positively, saying it was a "very important step in the right direction," or simply "alhamdulillah, finally," suggesting the decision was long anticipated.
Others expressed cynicism, highlighting the kingdom's recent detention of several women's rights activists, and saying the "new laws meant nothing under such circumstances."
However, a large proportion of the online conversation was dominated by jokes. Some of the most popular tweets included videos showing people accidentally sending a love heart emoji to friends, before gunmen dramatically intervene:
Another shows a Twitter users 'literally' binning his Whatsapp heart emoji:
Or Googling how to delete the emoji from their keyboard in order to save face:
Whereas one user simply asked women to unfollow him, saying "I'm sorry girls... women followers are no more welcome."