Russian prankster: Boris Johnson 'not an idiot', warns of next stunt
Comments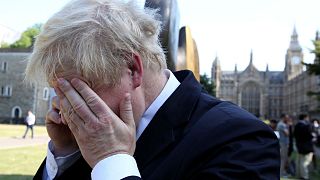 Copyright

REUTERS/Paul Hackett
A Russian prankster who fooled UK Foreign Secretary Boris Johnson with a hoax call disguised as the new prime minister of Armenia told Euronews he was surprised that the politician was "not an idiot."
Alexey Stolyarov and Vladimir Kuznetsov enjoyed a long phone call with Johnson earlier this month in which they discussed everything from the poisoning of former Russian spy Sergei Skripal to the Syrian conflict and the British politician's poetry.
Stolyarov told Euronews that the duo had been trying to reach Johnson for about a year before they finally managed to get him on the phone.
"About one year ago we called him as the prime minister of Ukraine and he didn't answer, because maybe he didn't want to talk to the Ukrainian officials. But we tried to reach him again after one year and after the prime minister of Armenia [Nikol Pashinyan] was elected, " he said.
Stolyarov said the pranksters managed to get access to Johnson by first speaking to Minister of State for Europe and the Americas Alan Duncan, and asking him to arrange the call.
Duncan did not immediately respond to a request for comment.
Key moments of the call, which Stolyarov said lasted 22 minutes in total, included the prankster joking that he hoped Russian President Vladimir Putin "will not poison me with Novichok" in an upcoming meeting.
"Well it's very important, I think, prime minister, that we don't have a new Cold War, you know, I don't want that, nobody in the UK wants that," Johnson replied.
Johnson later expressed surprise and interest when the prankster claimed Putin was "influencing" British opposition leader Jeremy Corbyn.
The call ends after the prankster refers to a conversation with Ukrainian President Petro Poroshenko, saying the politician was poisoned, but was saved due to a special antidote which he always carries with him called "opohmel".
In reality, "opohmel" is a Russian term for a small amount of alcohol consumed to ease a hangover.
"Because we usually prank Poroshenko, the president of Ukraine, and many people in Russia know that he really likes to drink a lot, we've made so many videos with that so it was also our continuing joke," Stolyarov told Euronews.
After struggling to pronounce the word, Johnson goes silent and the line is cut.
'Not an idiot'
Stolyarov said the most surprising part of the call with the UK Foreign Secretary was learning that "he is not an idiot."
"We were surprised because he was looking not as an idiot. He's a smart diplomat, I think. We thought that he would start to blame Putin for all our difficulties but he said that he didn't want a cold war."
But while the prankster praised Johnson, the UK Foreign Office was less than impressed by the call.
"The use of chemical weapons in Salisbury and Syria, and recent events in Armenia are serious matters. These childish actions show the lack of seriousness of the caller and those behind him," said an FCO spokesperson. 
A spokeswoman for Prime Minister Theresa May said an investigation was under way "to make sure this doesn't happen again".
Critics also accused the pranksters of having links to Russia's security services.
However, Stolyarov strongly denied the claims.
"Of course we don't work for the Kremlin... We are just simple people, simple guys who have no covering from our security services. And we have no connections to them," he said.
As for what's next for the duo, Stolyarov said they don't expect Johnson to pick up the phone again any time soon.
"Now I think we can talk [to Johnson] only by Twitter, and I hope he will answer," he said.
For the next prank, "it will be one official in Europe. It will be very soon. Next week."