A chilly night in street is the price of a glimpse of royal newlyweds
Comments
By Petra Cahill and Rachel Elbaum and F. Brinley Bruton with NBC News World News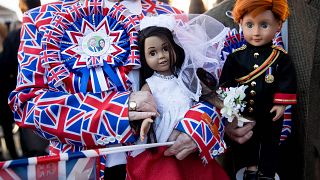 -
WINDSOR, England — Around 100,000 well-wishers were cramming their way into the narrow streets of this town that is usually home to just 30,000 people as they prepared to welcome Meghan Markle to Britain's royal family Saturday.
Fascinators — the headpieces often worn by women to weddings in the U.K. — perched on well-coiffed heads, while red, blue and white British flags were draped around shoulders and children wore blow-up crowns.
The crowd was preparing for a ceremony set for noon local time (7 a.m. ET) at St. George's Chapel inside of Windsor Castle.
Four miles of bunting decorated the town and royal fans staked out spaces along the processional route days before the ceremony to ensure a good view.
By 6:30 a.m. (1:30 a.m. ET), the sidewalk nearest to castle was becoming unpassable as good-natured crowds tried to get as close as possible to the wedding venue.
Toni Shah, 43, of Ann Arbor, Michigan, was not taking any chances and spent Friday night sleeping on the procession route instead of at a hotel she and her husband Rick had booked months ago.
"I want to be front-and-center," she said.
While Shah said she has long been a fan of the royals — "I've read all the books, watched every movie" — Markle was a particular draw.
"I'm going to wave my American flag supporting her — that's the first thing," Shah said after a chilly night wrapped tightly in a sleeping bag. "I think I'll probably be crying to be quite honest."
Shah said that Markle "represents change," adding: "I like that she's the new Britain: She's American, she's an actress, she's a minority."
Screens were set up along the Long Walk leading up to Windsor Castle and in the Alexandra Gardens park so well-wishers could watch the ceremony together.
The newlyweds were scheduled to take a carriage ride through town to greet the public. Estimated to last around 25 minutes, Markle and Harry — who will officially be known as the Duke and Duchess of Sussex — will ride in an open-topped Ascot Landau carriage pulled by four horses.
Police were out in full force starting days before the festivities. Around 3,000 officers were expected in Windsor on Saturday along with 250 ceremonial members of the armed forces. Many streets were closed to vehicles and barriers installed.
"The officers on the ground are there to protect the public and keep the public safe, but also if anything were to happen then we're ready to be able to respond to anything," said Thames Valley Police Commander David Hardcastle, who is coordinating the security operation.
To help accommodate the large numbers of visitors, bus and rail companies added extra train and bus services.
Since her engagement to Harry, Markle has appeared to embrace her new role. With a more casual manner than many of her fellow royals, she greets and hugs people during her engagements, an unusual gesture for royals in public.
Markle's American background — the actress hails from Los Angeles and her mother is a social worker and yoga instructor — gave some American royal fans a push to experience the festivities in person.
Andrea Austin, who stood on a packed sidewalk on High Street, said she had traveled from San Francisco to witness history.
"This is a once-in-a-lifetime thing — it's an American marrying a royal," the technology sales executive said.
"It's a great opportunity to bring a bit of the monarchy to us," the 50-year-old added, referring to Prince Harry's U.S.-born bride.
Karen Bevan, 53, from the English city of Portsmouth and Karen Clout, who described herself as "over 70," from St. Albans, are seasoned royal watchers.
The two Karens were strangers, until about 12 hours ago when they parked they lawn chairs side by side on the High Street. Overnight, they bonded.
"For me it's not about the royal family, it's the event. It's about being part of a historic event and meeting new people. Talking to people I wouldn't normally talk to," said Clout.
The town was expected to keep up the celebrations through the evening. Pubs which normally close at 11 p.m. were granted permission to stay open an extra hour to celebrate.