There's support for silenced film makers at the Cannes Film Festival
Comments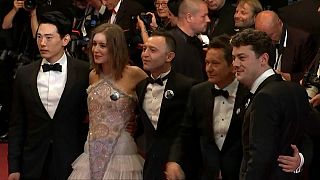 When the cast of 'Leto' walked the red carpet, their director was with them - but not how they'd hoped.
Ilya Stewart, Producer of Leto says, "It's terrible, it's an auteurs festival and the director must be here, it's a mistake."
Kirill Serebrennikov is an outspoken critic of Russian president Vladimir Putin, and the director has been under house arrest since he was detained in August on corruption charges that Russia's artistic community says are politically motivated.
Ilya Stewart, Producer of Leto added, "He's allowed to leave his home from 6 and 8pm every day in his neighbourhood, but otherwise he's at home. We were lucky (which is the wrong word because we can't call this situation lucky), to have shot most of film when it happened. So we had a couple of days remaining. Kirill was able to edit at home. This was important to the entire producer's team."
Serebrennikov isn't alone. Iranian director Jafar Panahi, also in competition for the Palme d'Or, has not been allowed to leave his home country to present his film at Cannes.
The Festival has expressed its support for silenced filmmakers.
Thierry Fremaux is the Director of the Cannes Film Festival says, "The irony is that these two films are not political films. They are not films against the Iranian or Russian regimes - they are works of art."
Another filmmaker silenced in her home country: Wanuri Kahiyu, whose film 'Rafiki' was struck by censorship in Kenya for its depiction of a gay love story. She's presenting it in the Un Certain Regard competition.
Wanuri Kahiu, director of Rafiki says, "We weren't worried because we had followed the letter of the law. You want to believe your country is progressive, every morning you want to believe it's moving forward. When the Kenyan classification board banned the film, we felt as if it was a violation of our right to freedom of expression as guaranteed in our constitution."
Euronews Belle Donati says, "There's a palpable sense here this year that cinema needs to be protected - at a time when it can be seen as a disruptive force, especially in places where politics has shifted towards authoritarianism. A small victory for filmmakers still to look forward to Terry Gilliam's quixotic offering will play as the festival's closing film, after a French court ruling against its producer".