Vigorous Vladimir? A look at the attempts to portray Putin as an all-action leader
Comments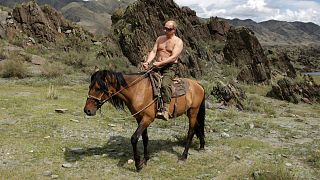 When seasoned observers of Russia saw Vladimir Putin haul himself into a lorry cab today they may have felt a pang of deja-vu.
His driving of a truck over a bridge to the Crimean peninsula — annexed from Ukraine in 2014 — was not the first time Russia's president has tried to appear as a youthful, all-action leader.
He's flown planes and hang gliders, driven tanks, cruised around on a three-wheeled motorbike, taken up the controls of snowmobile, piloted a powerboat dressed in camouflage and shades and, perhaps most famously, been pictured bare-chested while riding a horse.
Putin has also helped track bears, been snapped showing off his fishing catches and enjoyed a weights session with Dmitry Medvedev.
But the stunts have not all been about forging a hard man persona: he once took a canary yellow Lada Kalina on a 2,000-kilometre drive across Siberia in a bid to boost Russia's car industry, and, perhaps, his own ratings.