Putin drives truck across new Russia-Crimea bridge
Comments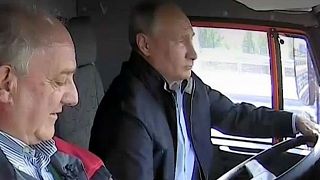 Vladimir Putin drove a truck across a new bridge connecting mainland Russia with the Crimean Peninsula at its official opening.
The Russian president said on Tuesday he was confident people would love the bridge, which will be open to traffic tomorrow.
Ahead of the opening ceremony, the Kremlin kept the programme for the bridge's unveiling a secret — the only public information was the people who created the construction would play a key part.
The bridge is split into two parts, one for vehicles, which was inaugurated on Tuesday and another for trains, which is set to be unveiled next year.
Extra safety checks will be carried out over the next few months before other trucks are allowed to drive over the bridge.
It is the latest attempt by Moscow to integrate the region which it annexed from Ukraine in 2014.
Ukraine claims the bridge will also prevent large ships from passing through to the country's ports on the Azov Sea.