Venezuelan hardship unlikely to affect presidential election
Comments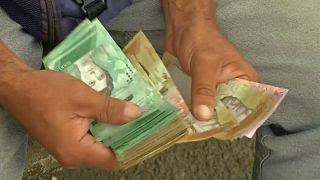 Life is tough for ordinary people in Venezuela.
Levels of poverty and even malnutrition are rising almost as rapidly as the country's hyperinflation.
Since the death of former president Hugo Chavez the economy has been in collapse.
Retired Venezuelan, Freddy Martinez is among those struggling. "Half our earnings go to buy food, the other half medicines," he says.
"I am chasing the cheapest offer, the street vendors are those who sell at the cheapest prices."
Presidential elections would normally spell hope. But Chavez's successor, Nicolas Maduro, has been unable to manage a crisis which, for ordinary citizens, has led to shortages food and medicine.
"I only have 1 million 500-thousand Bolivars left and that's not enough for me to buy my medicine," says Freddy.
"Now I have to go searching for the additional money that I need and come back this afternoon to see if the medicine hasn't run out so I can buy it."
After a clampdown on opposition parties who also plan to veto the election, Maduro is expected to hold on to power.
Venezuela should be a rich country. It has some of the world's largest oil deposits as well as other minerals but supermarket shelves are often empty and in some poorer parts of the country, 70 percent of children suffer from malnutrition.
Venezuelans are beginning to flee to nearby countries such as Colombia, Ecuador, Brazil and Peru. It's becoming a refugee crisis as much as an economic one as more than a million Venezuelans have left the country in the past three years.
The country's currency is almost worthless with prices doubling every 17 days. A cup of coffee would now cost 200,000 Bolivars.
Concerns about democracy in Venezuela have led the EU and US to threaten possible sanctions: But that could mean people's already difficult lives would become virtually impossible.