Price of cocaine most expensive in New Zealand, cheapest in Colombia: report
Comments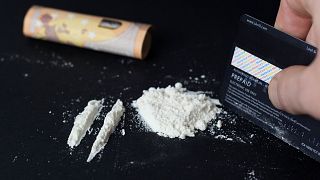 New Zealand and Australia are the most expensive countries to buy cocaine in, a new survey published on Wednesday has revealed, while South American users, unsurprisingly, pay the least.
According to the Global Drug Survey 2018, gram for gram, cocaine remains the most expensive commonly used illegal drug in the world but prices vary widely across the world.
The survey, which collected data from 130,000 respondents in 44 countries, found that users in New Zealand and Australia pay an average of €211.7 and €195.2 per gram respectively for the illegal white powder.
At the other end of the spectrum are Latin American countries. In Brazil, respondents of the survey said they paid an average of €13.4 per gram, while in Colombia they paid as low as €5.4 per gram.
According to the 2017 US State Department International Narcotics Control Strategy Report, Colombia is the world's top producer of cocaine with pure cocaine production surging 60% year-on-year in 2015 (the most recent year for which data is available) to 495 metric tonnes.
Cocaine delivered faster than pizza
The survey also found that the purity of cocaine has increased in recent years due in part to the diversification and sophistication of dealing networks. It warned that the increased purity can lead to a rise in the acute medical harms and possibly to a higher rate of dependence.
Among those new methods of acquiring illegal drugs is the dark web, which has been online since the 2011 launch of the now-defunct Silk Road.
Finland had the highest percentage of respondents saying they had used the dark web to buy illegal drugs, at 45.8%. It was followed by England and the United States with 24.6% and 18.1% respectively. Five years ago, those figures stood at 16.2% for Finland, 12.4% for England and 7.8% for the United States.
The speed of delivery has also increased.
Thirty percent of respondents said for instance that they had cocaine delivered at home in less than 30 minutes. Only 16 percent said it took less than 30 minutes for pizza to be delievered.
A majority of respondents globally, 58.9%, said they could get same day delivery.