Iranians fearful and frustrated after Trump pulls out of deal
Comments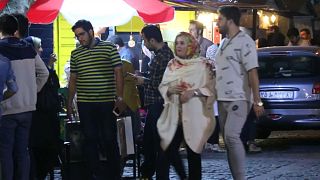 Iran's president was a strong supporter of the nuclear deal, but that isn't the case with all Iranians. It is widely acknowledged that the deal was not perfect, but it is also recognised, especially by Europe, that it was broadly working. On the streets of Tehran, people voiced worry and frustration.
"This news story has just made me worried," said one man. "I'm worried about everything, about the future. What could happen?
"We know the U.S. It's never complied with its commitments," added another man. "This deal just made the U.S give us some dollars, but now the dollar rate will dramatically go up after Trump's speech. This doesn't improve conditions for us, it makes them worse."
For some Iranians, pulling out of the deal is simply reinforcing their suspicion of U.S motives and integrity.
"Negotiating with the U.S. was wrong in the first place," said one woman. "Because they don't want that; they want to own the world and rule over everything. They need wars otherwise they'll go bankrupt if their weapons market is lost."
This man was a little less concerned and more defiant:
"Nothing has happened since the deal was struck so nothing worries us now. I would never like to have my country's missile and defense power negotiated because it is our inalienable right to achieve the most up-to-date technology in this field."
The people of Iran, along with the rest of the world, will now have to wait to see how their leaders react in a region that is already at war on several fronts.