Turkey's President Erdogan promises to make his country a global power
Comments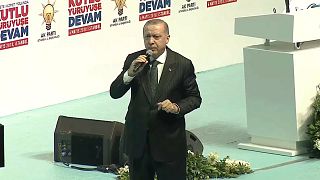 Turkey's President Erdogan unveiled his AK ruling party's election manifesto at a rally on Sunday in Istanbul.
He promised to make his country a global power and vowed to carry out new military operations along Turkey's borders after its two previous offensives into Syria.
Erdogan said the June 24 election will be a milestone for Turkey's future.
"Just as in the past, we always support democracy and freedom and human rights today. And we will also support them in the future. Besides that, we need to be strong and independent. These concepts that I mentioned are not alternative things to each other, but there are all complementary to democracy."
Erdogan's main rival in the presidential race is Muharrem Ince of the Republican People's Party. The CHP is secularist and is the largest opposition grouping in parliament.
Along with other opposing parties that are expected to form an alliance, they're worried that Erdogan's move to transform Turkey's governing system to an executive presidency will lead to a concentration of power and leave the system open to abuse.
The coalition is expected to be formally announced on Thursday and will include the CH), the İyi (Good) party, the Islamist Saadet party (SP) and the Democrat party (DP).
The pro-Kurdish Peoples' Democratic Party (HDP) on Friday formally announced imprisoned former co-chair Selahattin Demirtaş as the party's presidential candidate in the poll.