Watch: Protesters use tennis rackets to bat away tear gas
Comments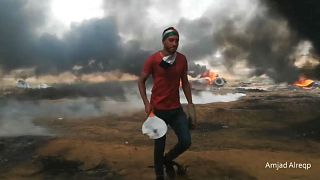 Palestinian protesters have been using tennis rackets to bat away tear gas canisters thrown at them across the Israel-Gaza border.
Videos circulated on social media showed them propel the gas away to prevent it from harming fellow demonstrators.
On May 4 crowds gathered along the border fence in Gaza for the sixth consecutive Friday.
Youths rolled burning tyres to within 300 metres of the fence, trying to use smoke as cover for throwing stones across it while eluding Israeli snipers.
Army gunfire has killed at least 43 Palestinians on the frontier over the last month, Reuters reported.
The protesters are demanding the lifting of the 10-year blockade of the territory by Israel.