Arachnophobes learn to love spiders
Comments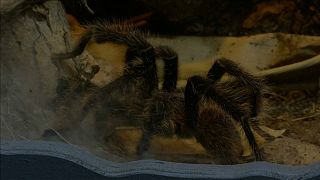 Fear of spiders is said to one of the most common phobias worldwide.  And for the past 25 years, experts at London Zoo have been helping people with their Friendly Spider programme. Techniques including hypnotism are used to overcome what has sometimes been a decades-long fear of these eight legged creatures.
"Some of these people have lived with a phobia for over 30 years," explains John Clifford of the Centre for Clinical Hypnosis. "And it's a very serious thing. Sometimes people make a joke of it, but if someone crashed a car because of a spider being in there, then that makes it very serious and people can harm themselves and other people. So it's really debilitating to those that do genuinely suffer from arachnaphobia. It's really important that they get over it."
The especially brave, like author Kathe Lette, have the chance of holding Carol - a large, bird eating spider.
"The thought of doing that hour ago would have put me into a spasm of horror and now I really do feel like I'm bonding with her," says Lette.
While British singer Sinitta explains her fear of spiders has been a problem all her life.
"50 years of traumatizing, making people get out of bed to come to my house to save me from spiders," she says. "My two-year-old son having to collect them and put them in the garden. I've moved into hotels to get away from them when I've had one in my bedroom before. "
After the education and hypnosis parts of the course are over, attendees are encouraged to walk around the zoo's spider house, as well as attempting to trap a spider in a plastic box to replicate the process of removing one of the creatures from a house.
Experts say spiders are a mostly harmless creature who are more frightened of people than people are of them.
Course participants say they are now far more friendly towards spiders - and even that they understand their viewpoint for the first time.