Rudd quits and Javid takes over at Home Office, but May's woes deepen
Comments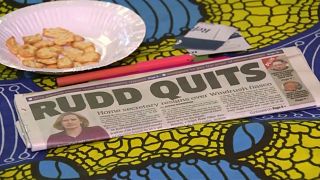 "The most urgent task I have is to help those British citizens that came from the Caribbean, the so-called Windrush generation and make sure that they are all treated with the decency and the fairness that they deserve. I think that's what people want tosee and it will be my most urgent task," said Britain's new Interior Minister, Sajid Javid, on taking up the job following the downfall of Amber Rudd.
Britain's opposition Labour leader Jeremy Corbyn welcomed the resignation, but blamed the architect of the disgraced policy, the former interior minister and now prime minister, Theresa May.
"She was presiding over, in her terms, the creation of a hostile environment, she's the one that sent those ad-vans around London and other places. Well, I think she needs just to reflect a bit more on this. She's now apologised to the Windrush generation. She now needs very rapidly, as Prime Minister, to ensure that the compensation is put in place, the recognition is put in place and anyone wrongly deported is immediately allowed to come back at public cost."
The prime minister is weakened by this scandal, which has also given food for thought to Britain's EU partners about the sometimes fickle nature of UK immigration policy as Brexit looms on the horizon and European nationals living in the UK fret over their future.