'They beat you everyday' - the migrants turning back from Libya
Comments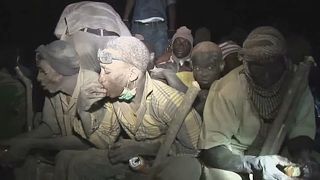 Since Libya's collapse, Niger has become a well-trodden route for migrants.
Mainly from sub-Saharan and Western Africa, migrants pass through the Sahel country, and on through Libya, to get to the Mediterranean coast - seen as their ticket out.
But now, many are doing U-turns after reporting hellish conditions in Libya.
Euronews met some of them at a bus-station in Niamey, the capital of Niger.
'They beat you everyday'
"My experience in Benghazi is very tough, I'm telling the truth, they got a lot of blacks from African countries, and the Libyans withhold you and put you into a house, and then tell you that you have to give about 350 dollars," said William More, from Liberia.
"Then they will put you on a ship for you to cross. So, at the end you give this money, times will come, those people, they put you on ship. And then they arrest you, they carry you to a place and they treat you every day, they beat you every day, you have to go on a farm to work."
David Sako, from Guinea Conakry, added: "You see, the Libyans, they are savages, it is God who saved me. Because right now I don't understand how I could have escaped. Many of my friends, I watched them die. 
"They took us to a house, there's many of us in the house, and every time they hit you, and when you call your family on the phone, they hit you so your family can hear, to make them send money. Many people died, and others were traumatised by the torture."
Migrant route
Migrants take a bus to Agadez, a city in northern Niger, where traffickers take them illegally into Libya. This is also where some migrants turn back and get help in Niamey.
Sean Kamara, from Sierra Leone, commented: "We just came here two days ago, two days from Agadez to Niamey. We are two days here, so we are currently at the process to see how we can go back to our countries."
David Sako added: "Here in Niger, well, in Africa, there is an organisation OIM, the International organisation for migrants. And we heard they help migrants to return to their country. It's thanks to them that we returned to Niamey to see them, in order to return home."
William More said:  "Going to Europe, it's very difficult to pass through Libya, because a lot of people, they are traumatised."
Niger's stability in danger
Human trafficking's threatened the stability of Niger. A country where traffickers network with jihadists and others to take advantage of this strategic location.
"These are our countrymen who are sold, who are exploited by traffickers and its the same traffickers who develop the weapons trafficking in our region," Niger's Defence Minister Kalla Moutari told Euronews. 
It's become increasingly difficult for migrants to reach Libya's Mediterranean coast, as they try to get away from this past of the world. They're either blocked by Niger's army and sent back to their home countries, or they're caught by the crime gangs in Libya.
"Niger used its army only to limit the access to the North, towards Libya, Algeria and the rest," explained Souley Aji, from Abdou Moumouni University.
"Well, its a policy, how can I describe it, a mercenary one, we give money and now you do that. A state which is sovereign should not be reduced to that."
Business blow
The drop in migrants is bad news for local traders in Niger, who cashed in on their custom. Small shops, drivers and bus companies have been among those benefiting from the large numbers.
They've now been left wondering what they'll do to make money.
One bus company worker said: "We have just one bus now and its not full. All of that is due to the absence of clandestine migration traffick. That's what people don't see in Europe."
The EU's Ambassador to Niger, Raul Mateus Paula, told Euronews: "I wouldn't say that the trafficking has ended. So, Niger took measures in terms of security, arresting traffickers, seizing vehicles, and this was in conjunction with the support of development and to give perspectives to people caught up in the trafficking, in this parallel economy."
Niger is not alone in helping migrants. The EU's pledged more than 800 million euros through different funds. There's also backing for assistance centres, which support migrants in returning home, or those who get asylum.
But it will take more than money to resolve the wider issues in this region.