#Cuéntalo: Spanish women tell their stories of #MeToo abuse, rape
Comments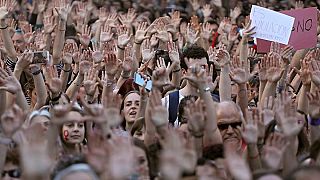 Spanish women have taken to social media under the hashtag #Cuéntalo, or #TellYourStory, to describe their harrowing experiences with sexual violence.
The trending hashtag joins a wave of Spanish protests that came after a group of men in the "Wolf Pack" trial were cleared of rape and found guilty of the lesser charge of sexual abuse.
The men, who recorded the attack in Pamplona on their mobile phones and laughed about the incident afterwards on a Whatsapp group, were sentenced to nine years in jail, which protesters have blasted as too lenient.
Beatriz Jimenez shared on Twitter her story about being slapped on the buttocks by her gynaecologist for not being quiet while being examined.
"#Cuéntalo. Pregnant for 7 months, naked from the waist down on the bed, the gynaecologist told me 'women who keep quiet are prettier', and he slapped me on the arse because I was asking a lot of questions. I froze and didn't say anything," she tweeted.
Twitter user @Ellie_Holy wrote about being groped while walking home from school.
"It was already dark and as we passed this street a guy from behind put his hand under my jumper and strongly grabbed my butt. It's there I learned that we can never walk free ... I did not pass that street again."
Speaking for those who cannot
Others took to social media to tell the experiences of women who can no longer share the stories themselves because they were killed.
Twitter user @sabri_barra told of the experience of her mother, who was killed after being attacked with bricks.
"She was 48 years old, five kids. Her partner attacked her head with bricks until she passed out, double trauma to the skull, and hen abandoned her in a ditch. Four months later she died in hospital. I tell this because my mum, Silvia, is not able to," she tweeted.
Viviana Garcia told the story of her cousin, a single mother who was killed after being shot in the chest.
"I am a single mum. I have two kids. I broke up with my ex because he hit my son when he was drunk. He shot me in the chest and hurt my mum because I didn't want to get back together. My two children were orphaned. I'm telling you because my cousin cannot. #Cuéntalo," she wrote.
Paula from Chile, who uses the handle @belettapaula, wrote about how her friend was raped by her father.
"My dad raped me from 7 to 15 years old. When I finally spoke, my mum asked me to hide it for the sake of my little brothers. I lived in silence for three years and decided that death by suicide was my only path. I tell this story because my friend could not," she wrote.