Watch: Dashcam footage shows drunk's erratic driving before crash
Comments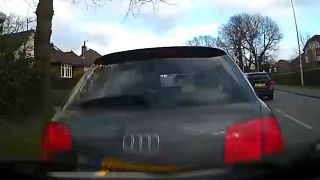 Police in England have released dashcam footage of a drink-driver's erratic behaviour in the moments leading up to a crash.
It's part of a bid to highlight the dangers of driving after consuming alcohol.
The video is from the car of UK-based teacher Louise Willard, who was convicted this week of drunk driving and had her license revoked for two years.
Sussex police said Willard, 41, had been seen swerving across the road and clipping kerbs before slamming into the back of a stationary car on April 4.
"The dangers of drink-driving are well-documented – it can seriously impair your reaction times, concentration levels, and judgement of other road users and hazards. But a lot of people may find this difficult to visualise," said Sussex Police's Nathan Langley, a police constable from the force's roads policing unit.
"Now, through the release of this footage, we can show you exactly what it looks like to drive under the influence of alcohol, and you can see just how shocking it is.
"The scary thing is this isn't a particularly unusual or extraordinary example of drink-driving; the driver has displayed a number of characteristics which you would typically expect. What you wouldn't expect, of course, is for someone in such a state to get behind the wheel of their car."
Police said Willard, who admitted the offence at magistrates' court, was almost three times over the drink-drive limit.
She was uninjured in the incident, the force added.