Andres Iniesta to leave Barcelona at the end of the season
Comments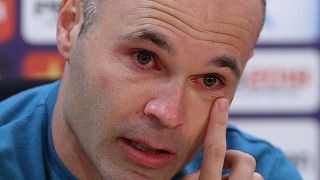 Barcelona midfielder Andres Iniesta will leave the club at the end of the season.
The 33-year-old made the announcement at a news conference on Friday.
Iniesta said:'' I have always thought that the club which welcomed me when I was 12-years-old deserves all the best from me. I've done that so far but I understand that in the near future I will not be capable of giving the best of myself in all senses, physically and mentally.''
The 33-year-old will play in the Chinese superleague next season but he has not yet announced which club he will sign for.
Iniesta made his Barca debut in 2002 as an 18-year-old and has gone on and made 669 appearances and winning 31 trophies including eight La Liga titles and four Champions leagues.
He has had major success in international football. He scored the winning goal for Spain in the world cup final in 2010 in South Africa. He also won the European Championships in 2008 and 2012.