Schools in Germany use sand-filled vests to calm hyperactive kids
Comments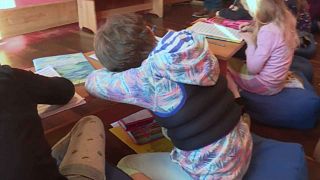 Schools in Germany are using sand-filled vests to calm down hyperactive children and keep them in their seats.
The idea originated in the US, but the vests first appeared in Germany more than 18 years ago.
In the western city of Bochum, students and teachers spoke about the positive changes they had observed as a result of the vests.
"When I don`t wear the vest, I feel nervous, but when I wear it, I feel calm," said 7-year-old Louise.
"It's like my mummy hugging me," said Erika, also aged 7.
Teacher Tobias Jungermann said children wearing the vests were "more concentrated."
"We have three vests, [weighing] 1.5 kg to 2.5 kg, they wear it if they wish. The child has to decide by himself."
However, not everyone was as enthusiastic.
"It is not enough to calm children who suffer from the hyperactive syndrome. You have to look at where the problem comes from," explained pediatrician Jakob Maske.
Critics of the vests have compared them to straitjackets used to constrain patients in psychiatric facilities, and warned they risk stigmatising those wearing them.
No official medical study has been published on the vests and their use in schools.