UK among worst countries in Western Europe for press freedom: report
Comments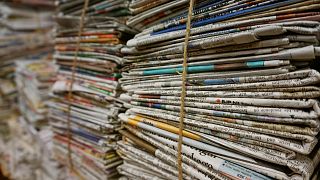 The UK is among the worst countries in Western Europe for press freedom, according to a new index, which places the country behind Chile, Trinidad and Tobago and Samoa in terms of restrictions on reporters.
NGO Reporters Without Borders ranked the UK 40th out of 180 countries for press freedom, placing it between Trinidad and Tobago and Burkina Faso.
"A continued heavy-handed approach towards the press (often in the name of national security) has resulted in the UK keeping its status as one of the worst-ranked Western European countries," it said.
Among the concerns about the UK, Reporters Without Borders cited the implementation of the Investigatory Powers Act, which it said gives insufficient protection to whistleblowers, journalists and their sources, threats to encryption tools and plans to criminalise repeated viewing of extremist content.
It noted that both the Conservative and Labour parties restricted journalists' access to campaign events ahead of the June 2017 general election, and referred to a case against the BBC and The Guardian by offshore law firm Appleby for breach of confidence over the Paradise Papers source materials.
EU scores
Leading the EU for press freedom were Sweden (2nd overall), the Netherlands (3rd) and Finland (4th).
Bulgaria received the poorest score of any EU country, ranking at 111.
"Corruption and collusion between media, politicians, and oligarchs is widespread" in Bulgaria, Reporters Without Borders said, adding that the government's allocation of EU funding to certain media outlets "is conducted with a complete lack of transparency, in effect bribing them to go easy on the government in their reporting or refrain from covering certain problematic stories altogether."
Other EU countries scoring poorly in the index included Malta (65th), Croatia (69th), Hungary (73rd) and Greece (74th).
Overall picture
Countries in Europe filled all of the top five positions, with Norway leading in press freedom, followed by Sweden, the Netherlands, Finland and Switzerland.
However, many countries around the world saw press freedom tightening, with Reporters Without Borders pointing to "dramatic growing animosity towards journalists".
"Hostility towards the media from political leaders is no longer limited to authoritarian countries… The hatred of journalism is now a dangerous threat to democracies as well," it said.
North Korea came in last place overall, while Eritrea, Turkmenistan, Syria and China also made up the bottom five.