Video mocks the political star: how games are being used in election fight
Comments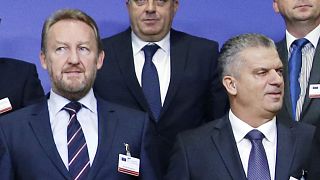 Copyright

Bakir Izetbegovic (left) and Fahrudin Radoncic.
Video games, typically confined to the bedrooms of Europe's teenagers, rarely occupy the same orbit as the cut-and-thrust of daily politics.
Except, that is, if you live in Bosnia and Herzegovina. For the tiny country in the Balkans has turned to computer games to hold its politicians to account.
As video games have emerged mocking two of Bosnia's prominent political figures: Bakir Izetbegovic and Fahrudin Radoncic.
Izetbegovic, 61, is one of three politicians elected to serve as Bosnia and Herzegovina's president on a rotating basis.
In his campaign to retain office four years ago — he was first elected in 2010 — Izetbegovic is said to have promised to create 100,000 new jobs.
With fresh elections set for later this year, an anonymous creator has put together a video game reminding voters of this pledge.
The game, called El Baketu, has a character that carries Izetbegovic's face. In an apparent swipe at him the idea is to collect money and navigate around obstacles like police cars, street protests and uneven roads.
The description of the game on Google Play Store implied it was for the 100,000 people who did not have a job and had time on their hands.
Another game — Flappy Fahro — targets Radoncic, a politician and key rival of Izetbegovic.
Its online description says it was created in reaction to the criticism of the original game from supporters of Izetbegovic.
Euronews asked the political movements of Izetbegovic and Radoncic to comment but they had not replied prior to publication.
El Baketu video game