Police use dead man's finger to try to unlock phone
Comments
By Corky Siemaszko with NBC News U.S. News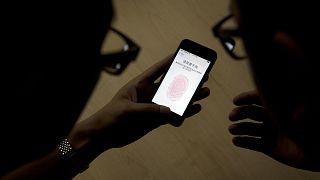 Copyright

Ng Han Guan AP file

-
Dead men tell no tales — and in one controversial Florida case, neither did a dead man's fingers.
Police officers in the city of Largo tried to gain access to the cellphone of the late Linus Phillip by pressing his digits against the fingerprint sensor. They failed, but the move outraged his fiancée.
"I just feel so disrespected and violated," the fiancée, Victoria Armstrong, told the Tampa Bay Times.
Phillip, 30, was shot and killed on March 23 after he tried to flee a Largo police officer who smelled marijuana wafting from his car and was trying to search him, according to the state attorney's office for Pinellas and Pasco Counties. Phillip was unarmed.
His body was released to his loved ones at some point before March 26, when two Largo detectives showed up at the Sylvan Abbey Funeral Home in Clearwater, Florida, with Phillip's phone, said Lt. Randall Chaney of the Largo Police Department.
Chaney told the Tampa Bay Times that police wanted to access and preserve data on the phone to aid in the investigation into Phillip's death and a separate inquiry into a drug case involving Phillip.
"This was witnessed by workers at the funeral home," Phillip's family attorney, John Trevena, said on the family's GoFundMe page.
Trevena has filed a complaint against the detectives, who gave Armstrong their business cards while at the funeral home.
Trevena said they are considering suing the City of Largo for unwarranted search and seizure and obtaining illegal access to the body after it left police custody.
Charles Rose, a professor at the Stetson University College of Law in Gulfport, Florida, said Phillip's loved ones may not have a legal leg to stand on.
"Warrants are designed to protect citizens against unreasonable searches under the Fourth Amendment," Rose said in an email to NBC News. "Given that the owner of the phone is dead, he no longer has a privacy right to assert under the Fourth Amendment. It's an open question as to whether his family might have that right, but he does not."
Meanwhile, State Attorney Bernie McCabe — in an April 13 letter to the Largo Police Department — concluded that Phillip placed Largo Police Officer Matt Steiner "in imminent fear of his life" and that his death was a "justifiable homicide."