ECJ ruling boosts Europe's 'most vulnerable migrants'
Comments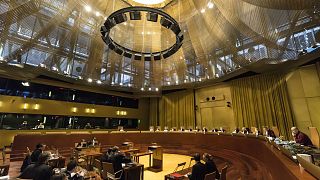 Copyright

Credit: Court of Justice of the European Union
Europe's most vulnerable migrants were boosted by a court ruling that gives greater protection to those who have been tortured, according to a human rights law expert.
The case involved a Sri Lankan who'd been refused asylum in the United Kingdom.
The case of the asylum seeker — referred only to as MP — was heard today at Europe's top court.
The European Court of Justice (ECJ) ruled asylum seekers who have been tortured can claim subsidiary protection in Europe if the country they were trying to be returned to was unable to provide adequate healthcare for post-traumatic stress.
Subsidiary protection is a level of recognition for migrants that is below that of refugee status but which normally gives the applicant a residence permit in the country for a limited period.
Steve Peers, a professor of EU and human rights law from the University of Essex, told Euronews it was a landmark judgement.
He added in a blog post: "Today's judgment has gone some way to ensuring greater protection, where necessary, for the most vulnerable migrants: torture victims and the terminally ill."
MP, a former member of the Tamil Tigers, had told the UK he would face torture if he was returned to Sri Lanka.
But with the country's civil war over since 2009, British authorities could not establish whether this was the case.
The ECJ agreed saying past incidents of torture and a low-risk of it repeating were not enough grounds for granting subsidiary status.
But, it added, MP still suffers "severe psychological after-effects" from torture and returning him would increase the risk of him committing suicide.
It concluded there would only be grounds for granting subsidiary status if the third country national faced a real risk of being deprived of healthcare for post-traumatic stress on their return, as in the case of the Sri Lankan.