Syria: chemical weapons inspectors visit Douma
Comments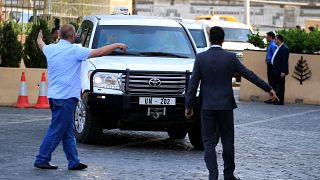 -
Copyright

REUTERS/Ali Hashisho
Chemical weapons inspectors visited the site of the alleged chemical attack in Syria's Douma, the Russian Foreign ministry said Saturday.
The team of inspectors is from the Organisation for the Prohibition of Chemical Weapons (OPCW).
According to a statement from the OPCW, the Fact-Finding Mission (FFM) collected samples for analysis in connection with allegations of chemical weapons use on April 7.
Western states believe the Syrian government launched the chemical attack on Douma, a town on the outskirts of capital Damascus, in which 40 people were killed.
"The samples collected will be transported to the OPCW Laboratory in Rijswijk (Netherlands) and then dispatched to the OPCW's designated labs," the OPCW said.
"Based on the analysis of the sample results as well other information and materials collected by the team, the FFM will compile their report for submission to the States Parties to the Chemical Weapons Convention for their consideration," it added.
The US, UK and France jointly bombed Syrian military sites last Saturday in retaliation for the alleged chemical attack, which the Syrian government and its allies, Russia and Iran, deny even took place.
Security concerns had so far kept the OPCW team away from the site — now under the control of regime forces.
A United Nations security team was shot at last Tuesday while on a reconnaissance visit to the area. An explosive was also detonated.