Erdogan's surprise elections: what's the rush?
Comments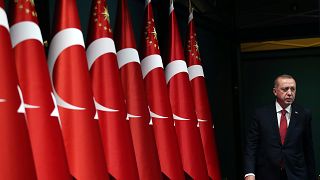 Turkish President Recep Tayyip Erdogan took everyone by surprise earlier this week when he announced a much earlier date for snap elections than expected. While many anticipated early general elections in November 2018, they will now be held on June 24. But what was the rush?
Growing political opposition
Opposition parties have been assessing possible alliance options to unite against Erdogan. So the quick call to elections may be seen as a tactical move as pressure begins to mount.
It is not clear if the newly formed centre-right Good Party (IYI), which may already be Erdogan's biggest rival, will be able to stand in the elections either. According to electoral regulations, participating parties must have held their first congress six months prior to polling day, and have local branches in at least half of all Turkish cities. While the Good Party staged its first national party congress in December, it is not clear if this is the deciding event or the first party congresses held in individual cities – the final one of which took place in March. The Supreme Committee of Elections (YSK) is now due to rule on the matter. Good Party Vice President Müsavat Dervişoğlu said: "If YSK counts the date in March, it means that President Erdogan has put forward the election date to rule us out. That's what we think."
The Good Party's leader, Meral Aksener, set up her new grouping last autumn after splitting from the nationalist MHP party, which is aligned with Erdogan's Justice and Development (AK)Party on many issues. Polls have shown Aksener's popularity rise to the point that she is considered the main rival, ahead of the CHP. Latest polls conducted by independent polling company Gezici have placed Erdogan's AK Party at 42%, and the Good Party already at 20,02%. The main opposition party CHP is at 20,01%, MHP at 7,3%, and the Kurdish HPD party at 9%. However, polling companies with ties to the government estimate a much lower turnout for the Good Party, hovering beneath the 10% threshold for entry into Parliament.
According to these polls, AK party and its coalition partner MHP are struggling to secure a parliamentary majority.
Recently Erdogan changed the electoral system by decree, enabling parties campaigning as part of an alliance to enter Parliament more easily. While a party had to clear a 10% threshold in order to secure seats in Parliament, alliances are now considered as a single entity in the vote count. This means ballots are no longer counted for individual coalition partners, helping weaker parties.
Economy
The biggest factor behind the snap elections, most analysts agree, is the economy, which is showing serious sign of vulnerability that Erdogan's government is unlikely to withstand until end of the next year when the normal election date was due.
The lira has struggled against the US dollar and the euro as investors watched the prospects of European Union membership diminish. Inflation has also been a problem, especially for business and middle classes.
Although the economy continues to grow, it shows signs of overheating and is expected to get worst in coming months. Lira has lost more than 50% of its value against the dollar over the past five years. Erdogan's government has failed to bring the inflation, which stands at around 11%, under control, and economists predict that hard times lie ahead, despite recent stimulus packages. The current situation is made worse by the government's inability to attract foreign direct investment.
The government has been able to shield its core low-income base from much of the impact so far. As they tend to consume local products and are usually not running substantial businesses, the rise of foreign currencies has had a limited effect on their lives. However, if the trend continues the pain will start to be felt more generally.
Military operations in Syria and Iraq
Erdogan argues that military actions against Kurdish fighters in Afrin, in northern Syria, and Iraq have spread uncertainty in Turkey and that elections would restore stability. Military operations initially unified many political groups but dissent has been growing, along with the death toll, and hundreds of people have been arrested for voicing their opposition.
According to news agency Anadolu, 54 Turkish soldiers have been killed in action. As expected, the strongest opposition comes from Kurdish groups, but there are also several large NGO's campaigning against the military operation.
A significant reversal on the battlefield could be highly damaging to the government and analysts warn that the longer military operations continue the greater the public discomfort will be.