Congress gets hands on explosive Comey memos
Comments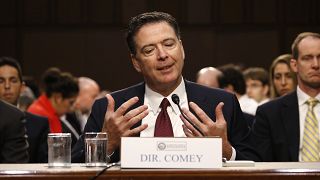 The US Justice Department has turned over to congressional committees a set of memos made by former FBI boss James Comey that he made as records of his conversations with President Donald Trump. And in an unusual move, they made them available to the press.
The memos include Trump expressing serious concerns about the judgement of his fomer national security advisor, and Trump's chief of staff asking Comey if the FBI was tapping Michael Flynn's communications.
The release was accompanied by a Donald Trump tweet claiming the memos cleared his name of collusion and obstruction claims, and again branding the investigation a witchhunt.
Comey has made his personal distaste for Donald Trump very clear. The memos include Trump telling Comey Vladimir Putin boasted to him that Russia had "some of the most beautiful hookers in the world".