Clashes in Armenia enter fifth day
Comments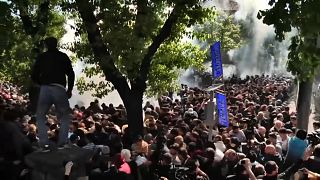 Demonstrators have clashed with police for a fifth day in Armenia. Tens of thousands marched through the capital Yerevan in protest against former president Serzh Sarksyan being appointed prime minister.
Police arrested dozens of opposition activists who accuse Sarksyan of making a power grab.
In parliament MPs voted 77-17 in favour of Sarksyan's appointment who stepped down as president last week because of a term limit.
But Armenia's new constitution has made the presidency largely ceremonial and strengthened the office of prime minister, allowing Sarksyan to maintain his influence.
Angry activists have declared a "velvet revolution" and are urging demonstrators to keep besieging government ministries and other official buildings.