Spaniards troll politician online as she renounces 'fraudulent degree'
Comments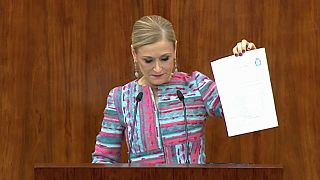 -
Can you give up something you've never even had? Spanish social media users are giving up their claim to the Narnia throne or the Austro-Hungarian crown to poke fun at a local politician who renounced her master's degree after fraud allegations surfaced.
In a letter sent to the rector of the Universidad Rey Juan Carlos and published on the Okdario website, Cristina Cifuentes, president of the autonomous community of Madrid, renounced her master's degree despite writing that she "did not do anything illegal" and that she "fulfilled the university's requirements to obtain the degree."
This follows allegations in the Spanish press that the degree had been fraudulently obtained. A professor also told the police that she had not evaluated Cifuentes and that her signature had been falsified.
The latest development was met with surrealist comments on Twitter with the #YoRenuncio (#IRenounce) hashtag.