Number of births outside marriage rise in EU
Comments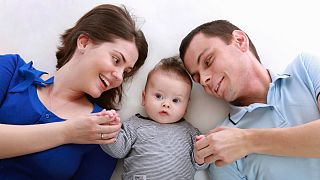 The number of births outside marriage has risen in all European Union member states since 2000, the EU's statistics agency revealed on Monday.
According to the latest figures released by Eurostat, around 40 percent of the 5.1 million births in the EU in 2016 were born from unmarried parents.
With six out of 10 babies born out of wedlock (59.7%), France tops the table. It is closely followed by Bulgaria (59.6%), with Slovenia (58.6%) rounding off the podium.
Other countries with over half of its births occurring outside marriage include Estonia (56.1%), Sweden (54.9%), Denmark (54%), Portugal (52.8%) and the Netherlands (50.4%).
At the other end of the spectrum is Greece. In the southern European state, fewer than one in 10 babies (9.4%) were born to unmarried parents. Croatia (18.9%) and Cyprus (19.1%) came next.
Mediterranean member states have seen the most rapid rise in the proportion of births outside marriage since 2000, Eurostat noted.
In that period, the proportion of such births has doubled in Greece, Portugal (currently 52.8%) and Spain (at 45.9%) and tripled in Malta and Italy to reach 31.8 percent and 28 percent respectively.
Although still in the bottom three, Cyprus recorded the biggest jump, increasing eight-fold since 2000 when it only recorded 2.3% of births from unmarried parents.