Free Interrail pass proposal backed by European actors, politicians
Comments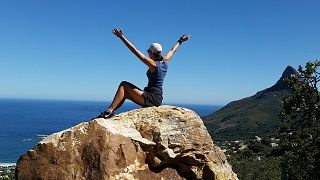 One hundred entertainers, artists, journalists and politicians have signed a letter backing an ambitious European project that aims to give citizens a free Interrail voucher on their 18th birthday.
Under FreeInterrail, the voucher would be valid for six years and could be exchanged for a 30-day Interrail ticket at any time. They would be delivered to thousands of eligible young people by the European Commission.
The Interrail Pass was first launched in 1972 and allows holders to journey across 30 countries in Europe at almost no extra cost on 32 rail networks. The ticket alone can cost as much as €510 for a month's travel.
Berliners Vincent-Immanuel Herr and Martin Speer, who founded FreeInterrail, released an open letter on Monday as part of a public appeal to pressure the European Commission and Council to prioritise it in the next multi-annual budget framework.
"The success of the European project depends on whether we enable young generations to experience and explore Europe for themselves, and make Europe their own," the letter reads.
"A young person cannot be a true European just by reading pamphlets and attending lectures. Such identity-building comes through personal experience, cultural exchange, friendships, and, most of all, traveling."
The letter's 100 signatories include German actors Daniel Brühl and Til Schweiger, as well as former Vice Chancellors Joschka Fischer of Germany and Erhard Busek of Austria.
Its release comes a month after the European Commission agreed to set aside €12 million to fund the youth mobility scheme.
Herr, 29, and Speer, 31, came up with FreeInterrail in 2014 while discussing a research project with Austrian author Robert Menasse in Vienna.
The then-university students used Interrail in their summer break to interview 200 young people across 14 European countries in an effort gouge their opinion about the EU.
"There was huge youth unemployment (at the time) and negative news being shown about European youth," Speer told Euronews.
"So we came up with the idea speak to young people aged 18 to 35, and ask them what the EU meant to them."
The journey "transformed us", Speer said. "It made us feel European and we got emotional about it.
"We thought 'why can't we create a programme that is universal and reaches everyone?'"
FreeInterrail has been a part-time passion project for Speer and Herr, who fit their activism around their full-time jobs as an economist and historian, respectively.
"We want to make Europe more inclusive and available to all, and to do that, mobility is key."