The world reacts to airstrikes on Syria
Comments
By Safia Samee Ali and Reuters with NBC News World News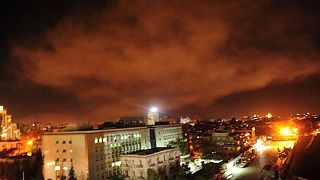 Copyright

AFP - Getty Images

-
The world's reaction to theairstrike in Syria launched by the U.S, France, and the United Kingdom on Friday was varied, although many allies did applaud the action against the Bashar al-Assad regime in retaliation for a suspected chemical attack last week.
British Prime Minister Theresa May said there was "no practicable alternative to the use of force to degrade and deter the use of chemical weapons by the Syrian regime," in a statement issued shortly after President Trump announced the attack.
"I judge this action to be in Britain's national interest. We cannot allow the use of chemical weapons to become normalized — within Syria, on the streets of the U.K., or anywhere else in our world. We would have preferred an alternative path. But on this occasion there is none."
And French President Emmanuel Macron said the chemical attack that killed dozens of civilians was in "total violation of international law."
"The red line declared by France in May 2017 has been crossed," he said in a statement. "I have therefore ordered the French armed forces to intervene, as part of an international operation conducted in coalition with the United States of America and the United Kingdom against the clandestine chemical weapons arsenal of the Syrian regime."
But Syrian state media called the airstrikes a "flagrant violation of international law."
Russia, which Trump assigned with much of the blame for not stopping the gas attack, vowed that "such actions will not be left without consequences," according to a tweet by Russian Ambassador Anatoly Antonov.
He added that "all responsibility for them rests with Washington, London, and Paris."
Still, much of the world — or at least, America's other allies — offered measured support for the action.
"Canada supports the decision by the United States, the United Kingdom, and France to take action to degrade the Assad regime's ability to launch chemical weapons attacks against its own people," said Canadian President Justin Trudeau in a statement. "We will continue to work with our international partners to further investigate the use of chemical weapons in Syria. Those responsible must be brought to justice," he said.
Israel, a close U.S ally that has also engaged in its own brushes with Syria, commended the swift response.
"Last year, President Trump made clear that the use of chemical weapons crosses a red line. Tonight, under American leadership, the United States, France and the United Kingdom enforced that line.
Syria continues to engage in and provide a base for murderous actions, including those of Iran, that put its territory, its forces and its leadership at risk," said an Israeli official to NBC News.
NATO's Secretary General, Jens Stoltenberg, said the attack was appropriate and would " reduce the regime's ability to further attack the people of Syria with chemical weapons."
"The use of chemical weapons is unacceptable, and those responsible must be held accountable," he said.