US missiles in Syria 'will come' and will be 'smart,' Trump warns Russia
Comments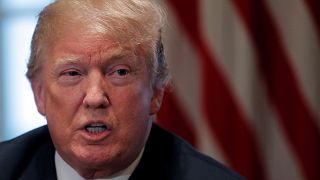 US President Donald Trump told Russia to "get ready" for a missile attack on Syria, despite Moscow urging the White House not to take military action after an alleged chemical attack on the weekend.
"Russia vows to shoot down any and all missiles fired at Syria. Get ready Russia, because they will be coming, nice and new and 'smart,'" he wrote on Twitter.
Syrian anti-government activists allege a chemical attack in Douma, a rebel-held suburb of Damascus, killed at least 70 people and wounded hundreds more on Saturday.
Trump addressed the Kremlin's alliance with the Syrian government writing: "You shouldn't be partners with a Gas Killing Animal who kills his people and enjoys it!"
The Syrian government denies it is behind the attack.
Russia on Tuesday urged the US to avoid taking military action in response to the attack in Syria.
"I would once again beseech you to refrain from the plans that you're currently developing," said Vasily Nebenzia, Moscow's UN envoy.
Washington would "bear responsibility" for any "illegal military adventure" it carried out, he added.
Trump later tweeted that the US' relationship with "Russia is worse now than it has ever been, and that includes the Cold War," telling Moscow to "stop the arms race".
He previously condemned the alleged chemical attack tweeting on Sunday that Russia and Iran were responsible as they supported "animal Assad," President of Syria Bashar al-Assad.