Virgin Galactic tests rocket ship, three years after fatal accident. The aircraft landed safely after reaching speeds of over 2000km per hour
Comments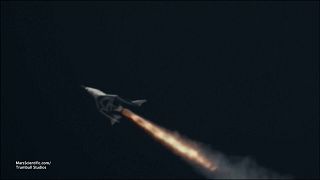 Richard Branson's company Virgin Galactic conducted a supersonic test flight over the Sierra Nevada mountains of its SpaceShipTwo passenger rocket ship on Thursday, the company said, three years after a fatal accident on an earlier version of the ship.
The aircraft was a SpaceShipTwo passenger rocket ship named Unity. After being released from a carrier plane at a height of 14,000 metres, a rocket motor kicked in, pushing the speed to over 2200km per hour and a height of 25,000 metres.
This time the jet landed safely, prompting Richard Branson to tweet that "space feels tantalisingly close now."
The company has not yet announced a date for the start of passenger flights but is selling tickets for a ride aboard SpaceShipTwo at $250,000 a seat. Rides will take passengers about 100 km above Earth, high enough to experience a few minutes of weightlessness and see the curvature of Earth set against the blackness of space.
Virgin Galactic's original SpaceShipTwo vehicle broke apart during an October 2014 test flight that killed the crew in an accident that was ultimately attributed to pilot error.