Deleting a Facebook account is almost impossible, says expert
Comments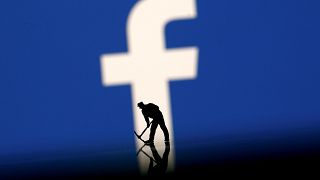 The Cambridge Analytica scandal that has plagued Facebook for weeks has pushed a number of platform users to consider closing down their accounts.
However, even if people choose to delete their Facebook profiles, it is almost impossible to do so without leaving a digital footprint.
Juan Carlos Lara, a lawyer specialised in new technologies, explained to Euronews to what extent a Facebook account can be deleted.
How to eliminate a Facebook account – step by step
"Facebook is obliged to delete personal data for those who wish to terminate their accounts in most countries. However, there are two things to consider," said Lara.
Deactivate
"The first thing is that the platform offers the option to 'deactivate' the account, which suspends it but does not erase all the personal data. This option is very easy — all you need to do is go to the general settings tab and click on 'Manage account,' which will give you the deactivate option."
Erase
"But this does not mean that your account has been erased. To do this, the process is quite easy but hard to find," said Lara.
"In the same 'Manage account' option, you can click on a 'More information' link, which sends you to a graphic explanation of the deactivate option.
"In the ninth page of the document appears a new link with more detailed information on what erasing your account means (this option is also accessible through the frequently asked questions page). This link gives you the option to permanently delete the account."
You can find the link to delete your account here.
So is all of the information erased?
"Yes and no," said Lara.
"The information stays inside Facebook's servers even if it disappears from the public user interface. Additionally, everything that was published on somebody's wall or sent over private message will remain there, it'll just show a deleted user image."
"The Cambridge Analytica scandal demonstrated that once information is out of Facebook's control (or in general once it's on the Internet) it is very difficult to follow its trace or know how many times it was duplicated," added the lawyer.
According to data released by Facebook, more than a million users in the UK had their data shared with Cambridge Analytica.
The company believes that the information of up to 87 million people — mostly in the US — was improperly shared with Cambridge Analytica, said Facebook chief technology officer Mike Schroepfer in a statement on the implementation of privacy tools.
The digital footprint of a Facebook account
"In theory, everything inside a computer can be erased but Facebook has computers all over the world, which makes it hard to trace whether information has been deleted completely," said Lara, adding that third parties may have been duplicating data without consent.
How can I claim to have all my personal data deleted?
In Europe, because of the digital data protection directive, there are courts where people can demand the deletion of personal data if "it's proven that the information wasn't fully deleted and third parties can still access it."
In order to take legal action, a formal request asking the company to take the information down must already exist.
Lara concluded that it's not only a legal question but it's also about having access to the tools that can trace personal data on the world wide web, which is "extremely complicated".
However, Lara points out that this issue has historical roots — before Facebook and the Internet, personal data was already being recorded without consent.