On the road with Hungary's Two-tailed Dog Party
Comments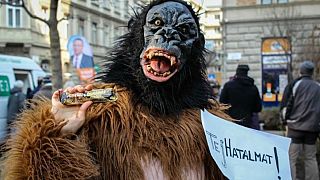 Its candidates sometimes dress up as chickens and gorillas - arguing that voters have lost trust in human politicians.
Even so, Hungary's "Two-tailed Dog Party" is not predicted to dent the grip on power of Prime Minister Viktor Orban's Fidesz Party in next Sunday's election.
But with a manifesto promising free beer and eternal life, it is brightening up the political landscape.
Daniel Boszik went on the campaign trail as two of the party's candidates took their grassroots activism to the people.
Watch his report for Euronews.