Great night for Liverpool in Champions League as the Merseysiders crush Manchester City 3-1
Comments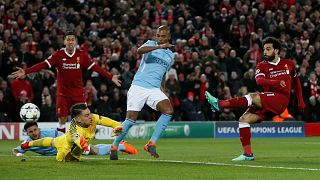 In the Champions League Liverpool delighted the home fans with an emphatic defeat of Manchester City on Wednesday evening. The Merseyside team scored three goals inside 31 minutes in the first half and held that lead to the end. Nevertheless, manager Juergen Klopp was cautious in his reaction:
"I never expected a perfect performance, I expected only that we be a real challenger and we were a real challenger and now we are 3-0 up, that's better than being 3-0 down 100 percent, but it's not decisive.''
The Manchester City manager knows his team faces an uphill struggle but he too rules nothing out.
"I think in this room there is nobody except the guy who is talking to you who believes that we're going to go through," Pep Guardiola told journalists. "Tomorrow, we're going to try and convince ourselves in this week to try again in six days, it's 90 minutes more and we're going to try."
Barcelona capitalised on two disastrous own goals from AS Roma to take a huge step towards reaching the Champions League semi-finals for the first time in three years with a 4-1 win.
AS Roma coach Eusebio Di Francesco conceded his team's performance could have been better.
"Barcelona's a great team but I think that the referee helped Barca a little, most of all on the decisions that determined the result, they are strong and we have made individual mistake; we made things easier for them and you can't do that playing against Barcelona."