France to cut 30% of its MPs and introduce proportional representation
Comments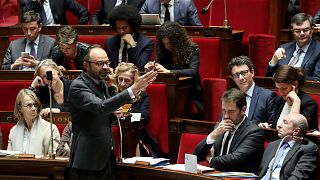 France is set to slash its number of MPs and introduce changes on how some of them are elected.
The move — aimed at making the government more efficient — was announced by French prime minister Edouard Philippe.
He said MPs sitting in the national parliament would drop from 577 to 404, while senators would see their numbers cut from 348 to 244.
The changes, which if passed would be introduced for 2022, also include electing 15% of MPs by proportional representation.
MPs are currently elected for a constituency if they win an absolute majority of votes; if not there is a second round run-off between the most popular candidates.
The reforms are broadly along the lines of President Emmanuel Macron's campaign promises.
They come after weeks of negotiations between Macron's government and the head of the conservative-controlled Senate, whose support is essential to get the changes through parliament.
A deal with the Senate would spare Macron the need to call a referendum to pass the reforms.
The last time the proportional voting system was used, the far-right National Front won an unprecedented number of seats.
Despite winning 13% of the vote in the last parliamentary elections in 2017 under France's current voting system, the National Front gained only eight seats in the 577-seat parliament.