6th Edition of Gazprom's Football for Friendship programme
Comments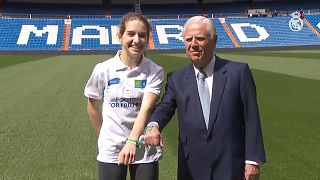 Football for Friendship programme, implemented by Gazprom, touched down in Madrid to hand out an award to Real Madrid's Enrique Sanchez.
The ceremony took place at the famous Santiago Bernabeo stadium where the programme's ambassadors presented the cup and the bracelet of friendship to the club's executive vice president.
The programme aims to encourage youngsters around the world to play football.
Before Madrid the F4F young ambassadors went to Turin to watch Real Madrid's 3-0 victory against Juventus in the Champions League quarter-final first leg.
Before the match they signed a '9 values cup diploma' with Gazprom's Chairman of the Board of Directors, Victor Zubkov, and Russia's ambassador to Italy Sergei Razov. Zubkov says this year the number of participating countries is the highest ever.
"This year the audience for our children's championship is very large," he said. "There are 32 teams from 211 countries and regions all 12 year old boys and girls. It's very important that children from different countries play in the same team, even from countries which may not havea very good political relationship. The children become friends through playing football.
"I believe that this is a very proper initiative that unites young people, allows them to get to know each other better, despite everything that is happening now in world politics – and I think that young Italians can make amends for their senior comrades," Zubkov continued.
The 6th edition of Football for Friendship takes place within the framework of the World Cup this summer in Russia and all the F4F teams will be invited to the opening match between Russia and Saudi Arabia.