'No jokes' at border, Russia warns London-bound soccer fans amid spy tensions
Comments
By Yuliya Talmazan with NBC News World News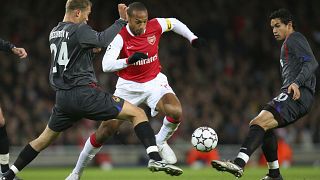 LONDON — Russian soccer fans heading to London have been warned not to joke with U.K. immigration officers amid a spy poisoning case that has left relations between the countries at a low not seen since the height of the Cold War.
Around 500 supporters of CSKA Moscow are expected to travel to the British capital for the first match of a Europa League quarterfinal against Arsenal on Thursday.
The U.K. has blamed Russia for the poisoning of former double agent Sergei Skripal and his daughter Yulia last month in the city of Salisbury. President Vladimir Putin has called such the accusations "nonsense."
The tensions prompted the Russian Embassy in the U.K. to issue a warning, asking soccer fans to respect British laws due to what it called "an anti-Russian campaign being conducted in the U.K."
"During passport control, we ask that you answer any questions about the purpose of your visit in a clear and relevant manner. No jokes please," the memo on the embassy's website added.
"To avoid provocation towards Russian citizens," the memo continues, "we are calling on fans to avoid conflicts with authorities and local residents, and to behave yourself with our inherent dignity."
One Russian media outlet reported thatsome CSKA Moscow fans were planning to bring several hundred T-shirts reading: "Novichok tour — 2018."
"Novichok" is the nerve agent that the British government says was used by Russia to poison Skripal and his daughter.
North London-based Arsenal told NBC News that strong security measures are place for every game, and therefore no additional measures were planned for Thursday.
The last time the two teams met was on November 1, 2006 — the day former Russian agent Alexander Litvinenko was poisoned after drinking tea laced with radioactive polonium at a London hotel.
CSKA Moscow and Arsenal played to a tie that night at the Emirates Stadium, where minute traces of polonium were later found.
One of the suspects in Litvinenko's poisoning, former KGB bodyguard and Russian politician Andrei Lugovoy, attended the game.
An inquiry set up by the British government to examine Litvinenko's death found his murder was "probably" approved by President Vladimir Putin.
Arsenal and CSKA Moscow are due to play each other again on April 12. That match will take place in Moscow.