Corbyn struggles to shake off "Labour antisemitic" tag
Comments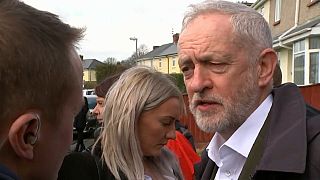 Britain's Labour leader Jeremy Corbyn is under fire again for his handling of an anti-semitism row as the conservative establishment and Blairite centrists within the Labour party seek to undermine him.
"Look, anti-Semitism is a vile and evil thing within our society at any level anywhere any time and it's got to be eradicated everywhere... Can I finish? Wherever it arises, if it arises in my party then we have a process for dealing with it, we examine each case and if someone has committed any anti-Semitic act then they're suspended and ultimately could be expelled," said Corbyn on Wednesday.
Sounds pretty clear, doesn't it? Yet some see his meeting with a left-wing Jewish organisation that dares to criticise Israel, and dismisses the anti-semitism claims as a conspiracy to keep Corbyn out of power, as another betrayal.
"Jeremy also has meetings with other sections of the community and has been wanting to have a meeting with representatives of the Board of Deputies and Jewish Leadership Council. You know it doesn't take away from that, so I really don't, I think this is not a problem," said the founder of Corbyn's main backers, the Momentum group, Jon Lansman, who is Jewish. 
It may not be a problem for Corbyn personally, as he is seen by many to have impeccable anti-racist credentials, but Momentum itself last week came out and said the Labour party needed to confront anti-semitic elements within it, and arguably in several Labour constituencies with large Muslim electorates, few votes can be garnered by saying nice things about the Jews.
The meeting with the leftwing group, Jewdas, came about after several mainstream Jewish groups protested last week that Corbyn was all words and little action when it came to tackling Labour members who were anti-semitic.
"The question is not whether or not Jeremy Corbyn is or is not an anti-Semite. None of us have ever labelled him as that. The question is as to whether or not he is going to be, as he said he would be, our militant ally in the fight against anti-Semitism," says the Chairman of the Jewish Leadership Council Jonathan Goldstein.
Corbyn's opponents will seek to get the maximum mileage out of this issue.