Robots are helping pupils to learn in Finland
Comments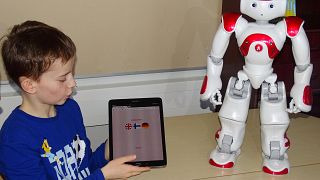 Elias, the new language teacher in a school in southern Finland, has endless patience for repetition, never makes a pupil feel embarrassed for asking a question and can even do the "Gangnam Style," dance. Elias is also a robot.
Elias is a language learning solution comprising a humanoid robot and mobile application, currently being trialed in a year-long pilot program at alongside a maths-teaching robot at a primary school in Finland's third-largest city.
The robot can speak 23 languages and is equipped with software that allows it to understand students' requirements.
It communicates in Finnish or English, recognising the pupil's skill levels and automatically adjusting the questions accordingly, giving feedback to the teacher about possible problems.
Some of the human teachers who have worked with the technology see it as one of many educational tools to be used in engaging children with learning.
"I think in the new curriculum the main idea is to get the kids involved and get them motivated and make them active. I see Elias as one of the tools to get different kinds of practice and different kinds of activities into the classroom," explained language teacher Riika Kolunsarka.
Using robots in classrooms is not new - teaching robots have been used in the Middle East, Asia and the United States in recent years, but modern technologies such as cloud services and 3D printing are allowing smaller start-up companies to enter the sector.
"Well, it is fun, interesting and exciting and I'm a bit shocked," pupil Abisha Jinia said, giving her verdict on Elias the language robot.
Despite their skills in language and mathematics, however, the robots inability to maintain discipline amongst a class of primary school children means that, for the time being at least, the human teachers' jobs are safe.